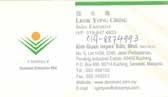 Company: Kim Guan Impex Sdn Bhd
Name: Leok Yong Ching
Position: Sales Executive
Mobile: 019-847 4933, 019-887 4993
Tel: 082-488 102
Fax: 082-348 057
Address: No.5, Lot 1439, 2246, Jalan Perbadanan, Pending Industrial Estate, 93450 Kuching.
E-mail: kgimpex@streamyx.com
Website: www.dominant.com.my
Detail: Distribution Of Plywood, Veener, M.D.F., Particleboard, Timber, And other wood panel product. Distribution of all types of building materials, manufacturing of PVC & PU Laminated MDF, Particleboard, Plywood and other Decorative Wood Panel Products. Manufacturing of Primed MDF Mouldings & Wrapped Mouldings.
for more advertising, please refer :-
advertise with us