Company Name: Grand Straits Garden Seafood Restaurants
Address: No.3, Jalan Persiaran Danga, Kawasan Danga Bay, 81200 Johor Bahru, Johor, Malaysia. (Behind Rat Auto)
Phone : +607-2388118
Fax: +607-2375799
Email : enquiries@gsg.com.my
Business Hours: Everyday 11:30am to 12.00am

For more info, Please visit Website | 网站 : http://www.gsg.com.my
Grand Straits Garden Seafood Restaurant, the most popular "Halal" seafood restaurant was created to offer guests a complete dining experience with its relax ambience and top-of-the-notch culinary expertise.
Overlooking the entire dining hall of Grand Straits Garden lays 7 secluded and intimate private VIP rooms, cozy garden & indoor dining. The VIP rooms which can accommodate up 50 people are equipped with karaoke facilities.
Grand Straits Garden is best known for its fresh seafood specialities prepared by it renowned chefs. The menu includes over 100 choices of delectable seafood dishes, as well as Chinese cuisines all prepared to satisfy diners with discerning tastes.
Grand Straits Garden Seafood Restaurant recently undergone a multi-million Ringgit refurbishment and transformed the restaurant into a classy dining venue in Johor Bahru.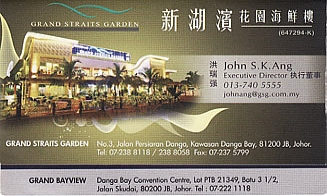 Contact Person | 负责人姓名 : JOHN S.K. ANG
Designation | 职位 : EXECUTIVE DIRECTOR
H/P: +60137405555